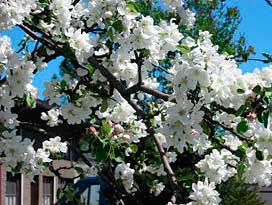 The Aple tree (Malus) sort deciduous tree and shrubbery family with globous sweet or sweet-and-sour fruit.
The Tree with spreading krona by height 2,5 15 m. Branch shortcut, on which are pawned floral buds, and lengthened (the ростовые). Beside type on branch of the thorn. The Sheet, nacked or trimmed with fur, with falling or remaining. The Flower (white, rose, red) in dashboard.
The Sort to aple trees counts 36 types (1976). The most wide-spread: aple tree home, or cultural (Malus domestica), to which pertains the majority cultivated in the world sort, aple tree, chinese (Malus prunifolia), and aple tree low (Malus pumila).
The Aple tree home time-proof plant (before 100 years, types before 300 years). Begins to bear fruit (depending on sort and conditions of the culture) on 4 12-y year usually, productive period 40 50 years. Plodonoshenie on the end of the shortcut branches. Cvetyot at April-May. The Blossom lasts 8 12 day. The Pollination cross. Under ample blossom is tied and develops before mature fruit beside 30 % завязей, rest are showerred. The Aple tree frost-resistant (bears before -42 C), sprouts on miscellaneous ground. The Defect, mineral feeding and other disadvantage factors bring shower ovary about significant.
Many types to aple trees grow as decorative plants in garden and park. Drevesina beside aple trees thick, strong, is easy cut and is well polished; suitable to turning and joiner's product, small homemade articles.